You are paying for Music, It should sound good!
Each system uses all name brand equipment like: JBL, QSC, Roland, EV, and CerwinVega.... OUR SYSTEMS SOUND LIKE A LIVE BAND!
I have seen DJ's using $150 speakers that sound like crap. They will tell you, well it's more about the songs and the DJ's personality and interaction etc etc. I believe those things matter too, AFTER the music sounds good!
We only use top quality components. Our computer is a custom built server quality rack mount PC with all Intel Components, with voltage and temperature sensors. Our PC is dedicated to DJing Only making it very reliable. I also bring a Laptop Back-up to Weddings. Our DJ SW is the best available and cost over $500! I use QSC Amplifiers and seperate JBL Speakers, WE DO NOT USE POWERED PLASTIC SPEAKERS!
OUR SIMPLE 2 SPEAKER SETUP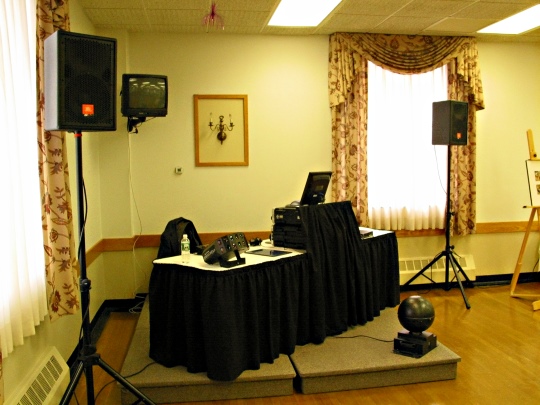 No Subwoofer, small light show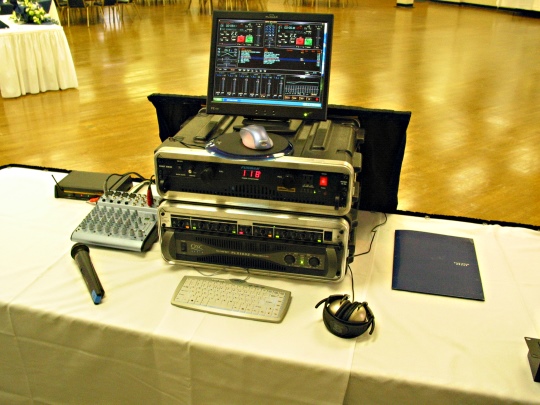 Our Custom Made Sound System
Our Newly Built Light Show
Over $1,000 worth of lights
OUR NEWEST LIGHJTING FIXTURE
Here are some links to the fine companies who's products we use:
BPM Studio, maker of MP3 DJ Software
DBX Professional Sound Products
As you can see we use only top quality equipment from quality companies.